You probably know that working with a REALTOR® is an indispensable part of selling your home. For one thing, your REALTOR® can list your property in the MLS, providing your home with incomparable exposure and ensuring you have as many REALTORS® as possible helping to find a buyer. But that's not all a REALTOR® does to market your home. He or she knows how to specifically target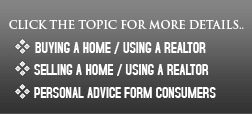 advertising to reach buyers for your home, and uses all the marketing tools available to ensure that your home is sold expediently. Additionally, a REALTOR®conducts a variety of other marketing efforts on your behalf, from holding open houses and handling phone inquiries to showing your home to prospective buyers.
What does a REALTOR® do for you besides find buyers?
Plenty. A REALTOR® provides information on local market conditions to help you price your property realistically and fairly, and keeps you abreast of changes in the market which may affect your property. And let's face it: buying or selling a home means paperwork, lots of it. When it comes to closing escrow, a REALTOR® can be invaluable, leading you through the paper trail with a steady hand, and familiarizing you with escrow, insurance, property displeasures and inspection procedures, to name a few.
Despite the overwhelming advantages of using a REALTOR®, some sellers mistakenly think they can save a few bucks by doing it themselves. Invariably, they learn the hard way that selling a home is an extremely complex and time-consuming undertaking and that, in the end, the savings might not even exist. These sellers usually don't reduce their price by the amount of commission they would have paid to a REALTOR®, in hopes of pocketing the perceived profit. Likewise, buyers take into account that there are no commissions to be paid and reduce their offers accordingly. So, many sellers end up right where they would have been price-wise if they'd used the services of a REALTOR®, but without any of the benefits of the expertise of this professional.
Beyond this, you won't have the benefits of having your home advertised by the REALTOR®'s firm in local newspapers, magazines, and the MLS. And, when it comes to knowing the intricacies associated with this transaction, working without a REALTOR® is like bungee jumping without measuring the height of the bridge first. For instance, there are mandatory disclosure rules a seller must follow and the seller is liable for damages if he or she fails to do so; a seller-financing arrangement can turn into a nightmare of foreclosure and litigation if it's not structured the right way; and the entire escrow process is extremely tedious and complex--miss one crucial step and there can be delays, cancellation, even lawsuits.
So, where do you find a REALTOR®?
Like finding any good professional, the best way to locate a REALTOR® is through recommendation from friends or those who have bought or sold homes recently. Ask for references and check each thoroughly. Also, interview several REALTORS® before you decide on one.
It's important to find a professional who is a REALTOR®. Why? A REALTOR® is someone who, as a member of the local, state and national trade associations, adheres to a strict code of ethics. Recently, the NATIONAL ASSOCIATION OF REALTORS® commissioned a nationwide survey to determine whether REALTORS® were doing their job professionally. The results were impressive: 97 percent of respondents indicated they received "excellent" or "very good" service from their REALTOR